Pumpkin Layered Cheesecake is perfect for fall entertaining, or if you want a yummy pumpkin cheesecake just because!
Pumpkin Layered Cheesecake is the first cheesecake I have made, ever! I was a little intimidated by the thought of making such a "complicated" dessert.
Knowing that it would take some trial and error to come up with my own recipe, I got on the internet and started narrowing down which recipe had all of the elements that I wanted.
I thought about making a crust-less cheesecake, they are my favorite. And tall. I wanted it to be tall, not a thin cheesecake. I didn't find one that was tall and crust-less, that was baked.
So, I decided I needed to give it some sort of crust, (I really wanted this to come out well since I am investing so much time and money into it) but I didn't want a graham cracker crust. I like them just fine, but I was thinking something different, that goes well with pumpkin.
Then it occurred to me, why not use shortbread cookies. I love them anyway, and they would go so well with pumpkin. I will definitely be making some more cheesecakes with this shortbread cookie crumb crust.
The brand of shortbread cookies I used are "made by little elves". But I am thinking that Girl Scout Cookie season is going to be here soon and I better stock-up!
I did step out of my comfort zone and changed up the recipe, it came out great. While it didn't turn out exactly the way I wanted I am pleased with the way it did turn out.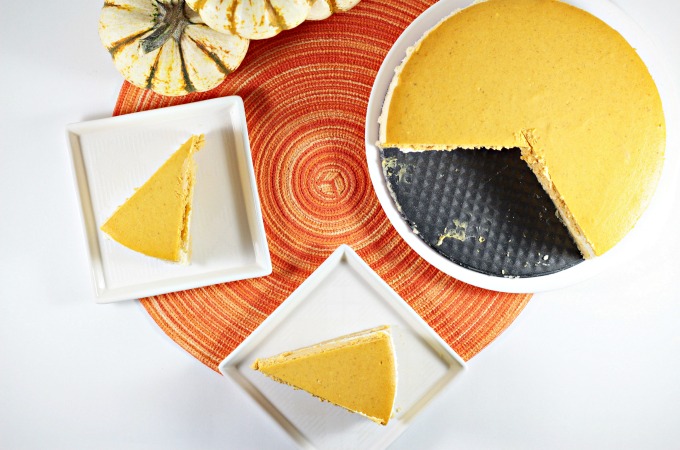 I was envisioning an even layer of regular cheesecake and an even layer of pumpkin cheesecake. The pumpkin part was heavier than the regular part, so it sort of pushed the regular part to the edges and the pumpkin part went more in the center. You can see this in the photos. I am more than okay with the way it turned out. It looked great (no cracks!) and tasted even better.
There is one little flaw that you can see in the photo (the one of the whole cheesecake, uncut). It happened when I touched it. I was touching it around the edges and then I just had to go and touch it in the center. The edges were sturdy but the middle was a little more delicate. I'll know next time not to touch it in the center!
The recipe I chose to modify is on a blog called Ny's Delight. There are some great tips over there on how to make cheesecake. I used her technique to the letter, and my cheesecake came out beautiful. The only thing I changed was how I used the pumpkin.
*****Make sure ALL of your ingredients are at room temperature. I set mine out about 4 hours before I made the cheesecake, (even the sour cream).*****