Chocolate Chocolate Chip Oatmeal Bars are a dense chocolate cookie bar featuring cocoa, dark chocolate chips and oatmeal.
These Chocolate Chocolate Chip Oatmeal Bars are rich and dense and satisfy my desire for dessert perfectly.
I have said it before and it still holds true, dessert and sweet treats are my weakness, chocolate especially!
We try to eat healthy most of the time, but I need dessert at least a few times a week.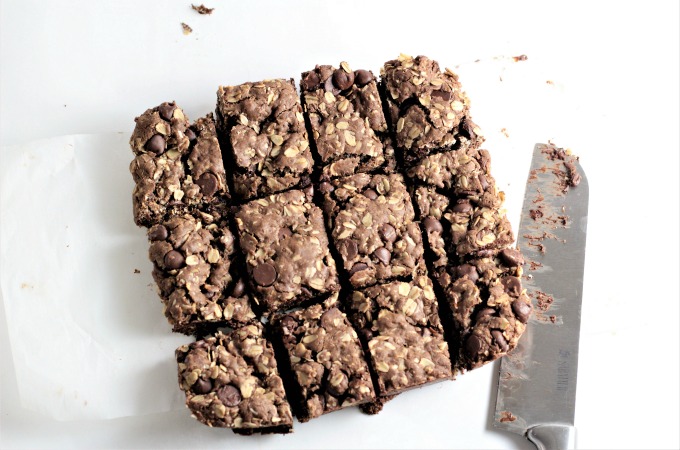 I modified a recipe I found on food.com, and came up with these bars.
What I really like about this recipe is that you use melted butter that cools for 5-10 minutes.
There is no waiting for the butter to soften!
These bars need to cool before you cut them, or they will break apart (I found that out the hard way!).
Somehow if a dessert or sweet treat has oatmeal in it then I think it is better for me.
Maybe it is at least a little better for me, I mean oatmeal is a superfood, right?!
I love that term, "superfood".
The original recipe calls for the pan to be cut into 20 bars. I only cut mine into 12.
Is that wrong?!
This way I only eat one and get 1/12 of the pan. If I cut them into 20 bars I would eat 2, and then I would eat 1/10 of the pan.
So I am really just saving myself calories, right?
If you want a treat that is a little lighter, just as yummy, and also is double chocolate, try these Double Chocolate Chip Banana Oatmeal Muffins.
Or, if you are looking for a healthier dessert option try this Healthier Chocolate Cake.
Chocolate Chocolate Chip Oatmeal Bars
Chocolate Chocolate Chip Oatmeal Bars feature cocoa, oats, and chocolate chips to make this rich, dense and delicious cookie bar.
Ingredients
1

cup

flour

1/2

cup

sugar

1/2

cup

brown sugar

1/4

cup

cocoa

1/2

teaspoon

baking soda

1/2

teaspoon

salt

1

egg

1/2

cup

butter

melted and cooled slightly

1

teaspoon

vanilla

2

cups

oats

1 1/2

cups

dark chocolate chips
Instructions
Preheat oven to 350°. Line an 8" X 8" baking pan with parchment paper and coat any parts of the pan that the paper does not cover with cooking spray.

In a large bowl whisk the flour, sugars, cocoa, baking soda and salt until well combined. Mix in egg, melted butter, and vanilla. Stir in oats and chocolate chips and mix until combined.

Press into prepared pan and bake for 22-25 minutes or until edges are set and center looks dry. Cool on wire rack.

Slice into bars.
Notes
I used old fashioned oats. Quick-cooking oats can be used, instant oats are not recommended.
Recipe adapted from food.com.
Follow us on social media!!
Pin this image for later!!