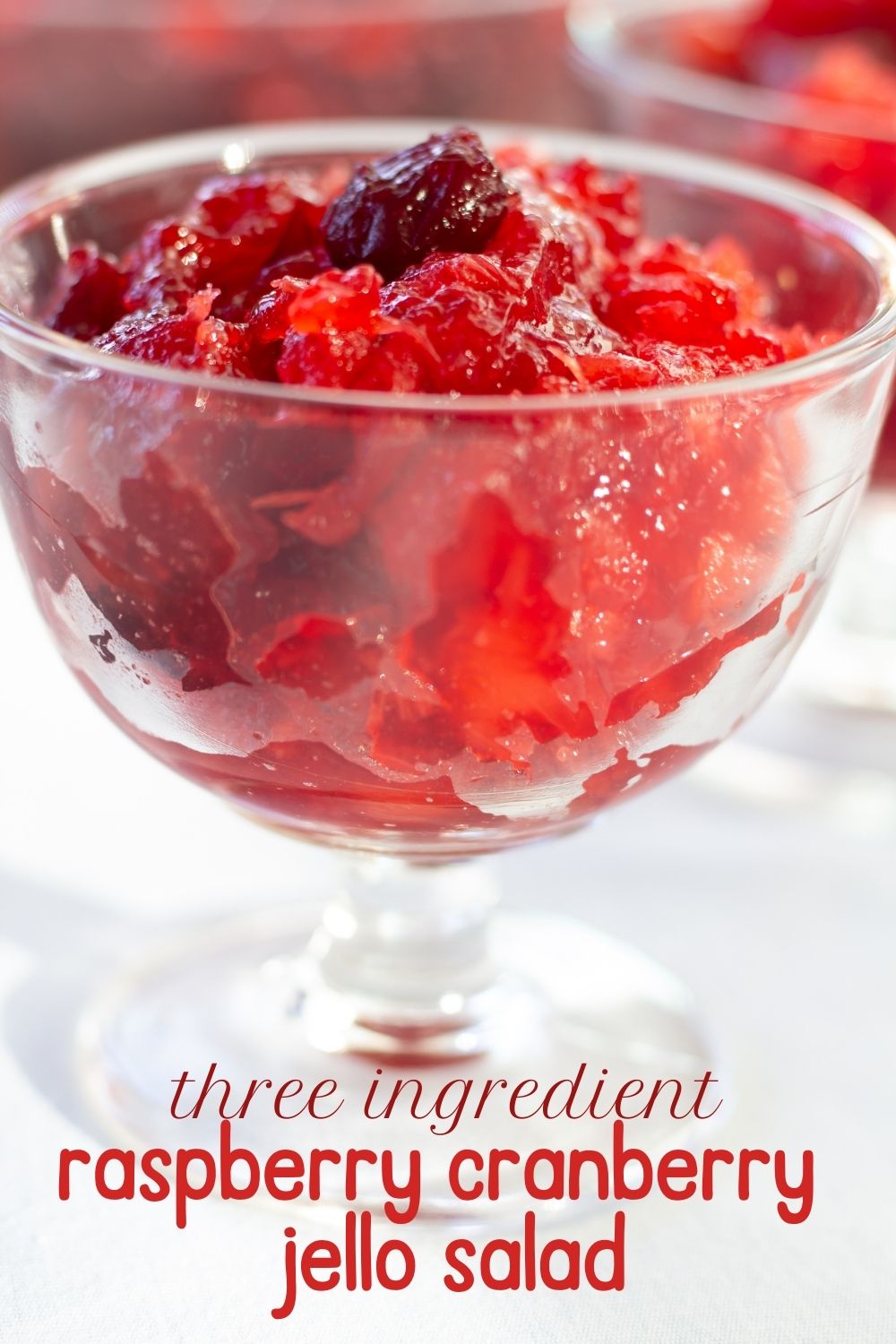 Cranberry Raspberry Jello Salad recipe features cranberry sauce, crushed pineapple and raspberry jello. That is it!
This dish is tangy and sweet and goes perfectly with the traditional Thanksgiving dinner. Lee's Aunt Betty used to make a jello salad kind of like this just about every year before she passed away.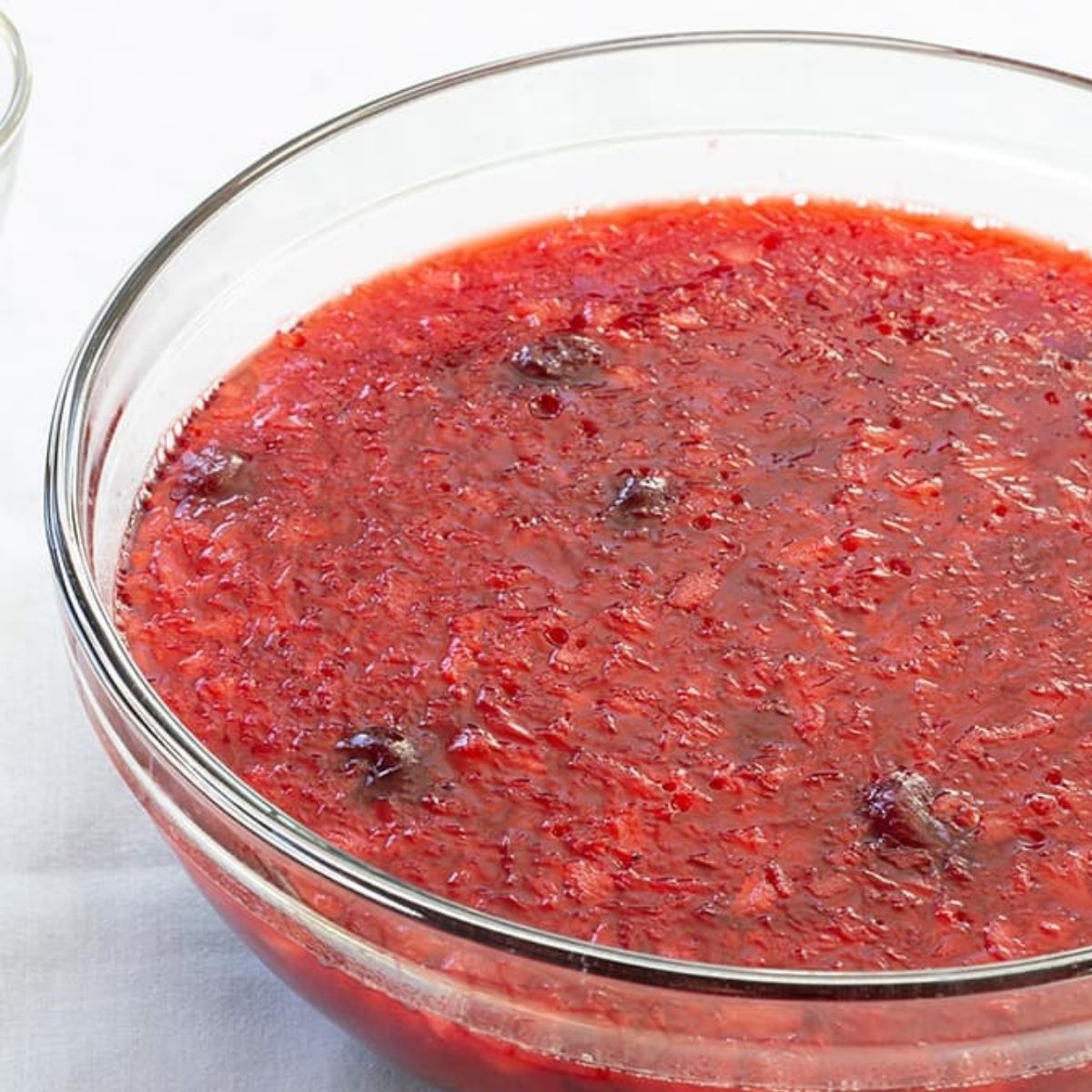 While searching for a similar recipe on the internet I found this one from Kraft.
I thought to myself, does it have jello? Yes it does. But Aunt Betty used raspberry jello, so that is one change I made.
Does this one have crushed pineapple? Yep.
Does this one use whole berry cranberry sauce? Yes!
Did Aunt Betty use pears in hers? Nope. So I left those out. Although Lee would not mind if I left them in.
So Aunt Betty's did have nuts and they do add a nice crunchy texture but I decided to leave those out because one of my kids isn't a fan of nuts.
I think she used orange juice or zest or something, but I wasn't sure so I left that out too. I have no idea the method she used to make hers, but Kraft's method seemed pretty good to me so that is how I do mine.
Wondering why exactly it is called jello salad I googled it and found a very interesting article about congealed salads on the National Museum of American History website.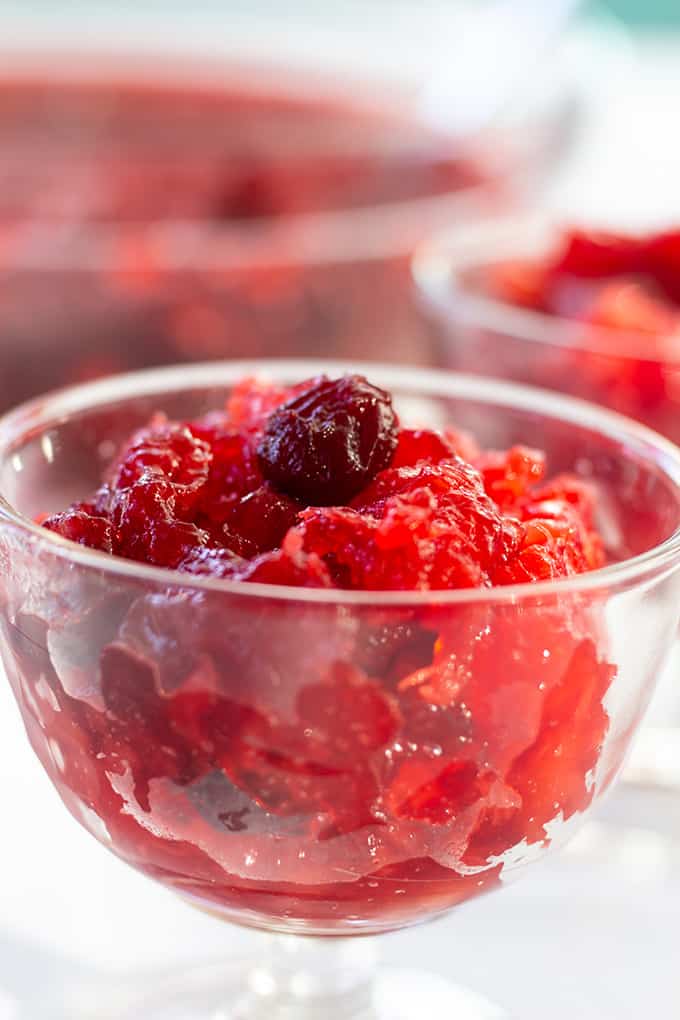 Ingredient Notes:
Just 3 simple ingredients are all you need to make this festive side dish that is perfect on any holiday table.
Crushed Pineapple – canned pineapple is better than fresh pineapple in this instance because you need the pineapple juice. It also helps to make this an easy recipe.
Raspberry Jello – can use sugar free.
Whole Cranberry Sauce – the type without whole berries can be used.
How to Make This Jello Salad Recipe:
Drain a 20 ounce can of crushed pineapple, reserving the juice.
Add enough water to the reserved pineapple juice to equal 3 cups. Pour into a medium saucepan and bring to a boil over high heat.
In a large bowl or casserole dish pour hot water and juice mixture over jello and mix until the jello powder is completely dissolved, about 2 minutes. Add 14 ounce can of whole berry cranberry sauce and stir until melted, about 5 – 7 minutes.
Refrigerate for about an hour. Stir crushed pineapple into jello mixture and return to the refrigerator for about 3 hours or until set.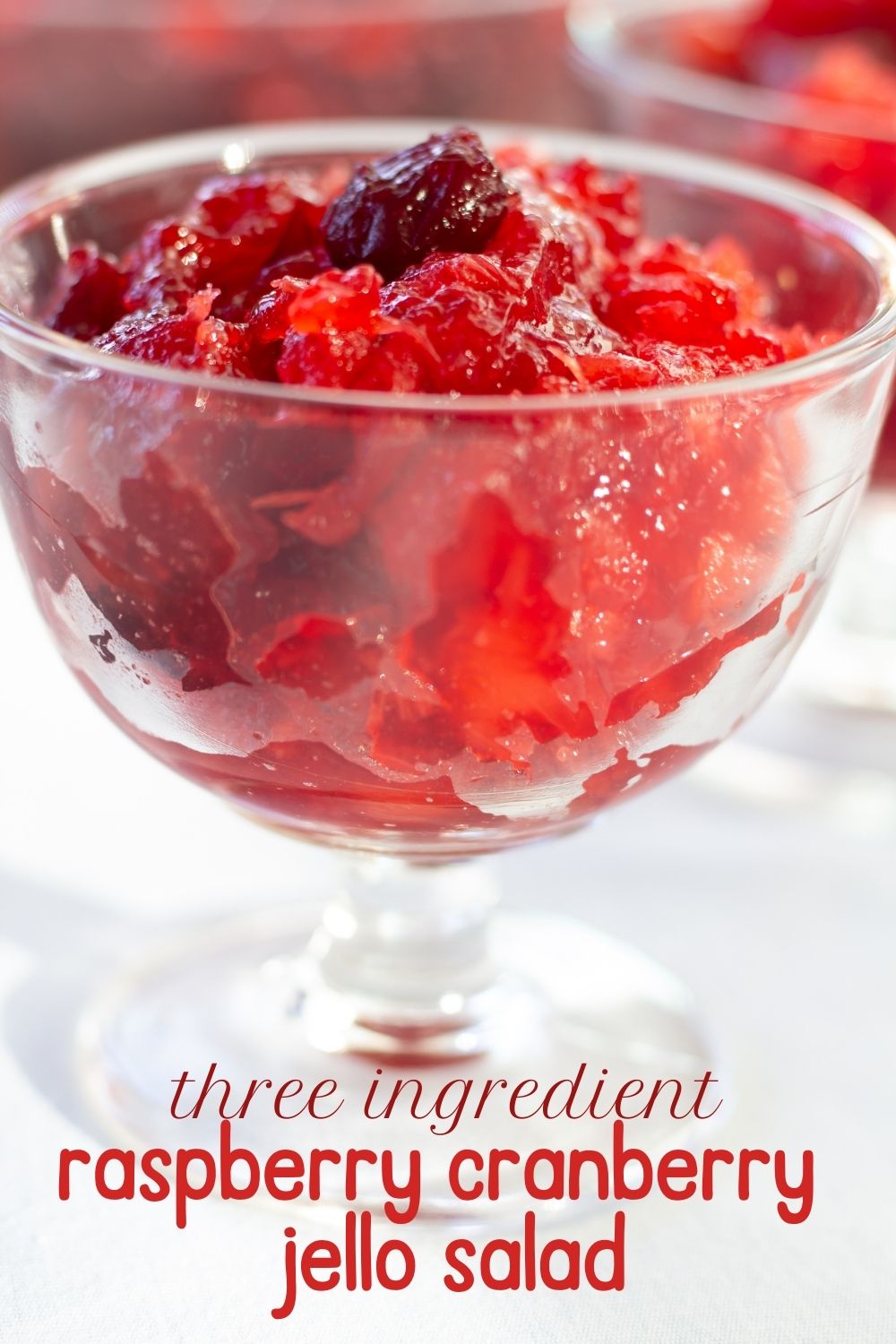 Tips & Tricks:
The best tip I have is to be patient and gently mix the ingredients. It takes a while for the jello powder to dissolve and it takes even longer for the cranberry sauce to melt into the jello mixture.
Stir gently so you don't end up with Jello all over the place. It can be easy to get the liquid sloshing around and before you know it it is all over the place.
I always make this the day before, at least. This way I don't have to stress about it setting up in time.
The pineapple will sink to the bottom if you don't let the jello set up for a while before putting it in. About an hour works great because you also don't want it to set up too much.
I have not made this using a jello mold because I wanted to keep it as easy and fool proof as possible.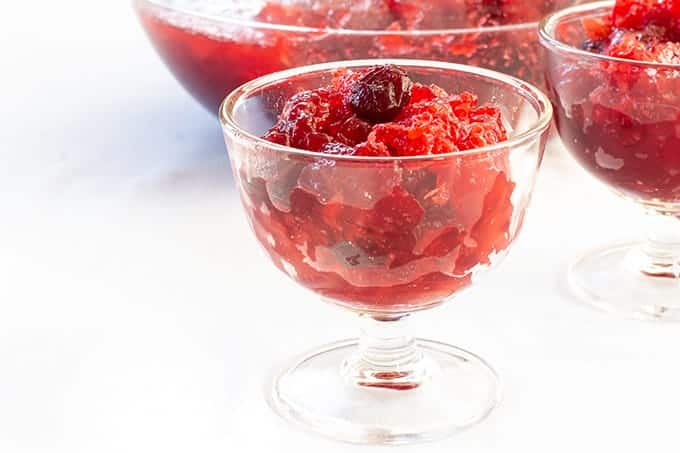 Additions & Substitutions:
Most red jello will work. Cranberry, raspberry, cherry, or strawberry are all good options.
As mentioned above, sugar free jello can be used.
Fresh fruits can be added. I would add the fruit based on the flavor of jello. So if using raspberry jello then fresh cranberries and fresh raspberries. If using cherry or strawberry jello then fresh cherries or strawberries and/or fresh cranberries.
Pears or mandarin oranges could also be added, fresh or canned (canned would need to be drained).
Pecans or walnuts would be a nice addition for a bit of crunch, about 1/2 a cup or so.
Add a dollop of Cool Whip to transform this from a delicious side dish to an even more delicious dessert.
Garnish with fresh fruit.
Storage:
Store refrigerated in an airtight container or bowl covered tightly with plastic wrap for up to 3 days.
Just like most foods that are served on our Thanksgiving table this should only sit out at room temperature for no more than 2 hours.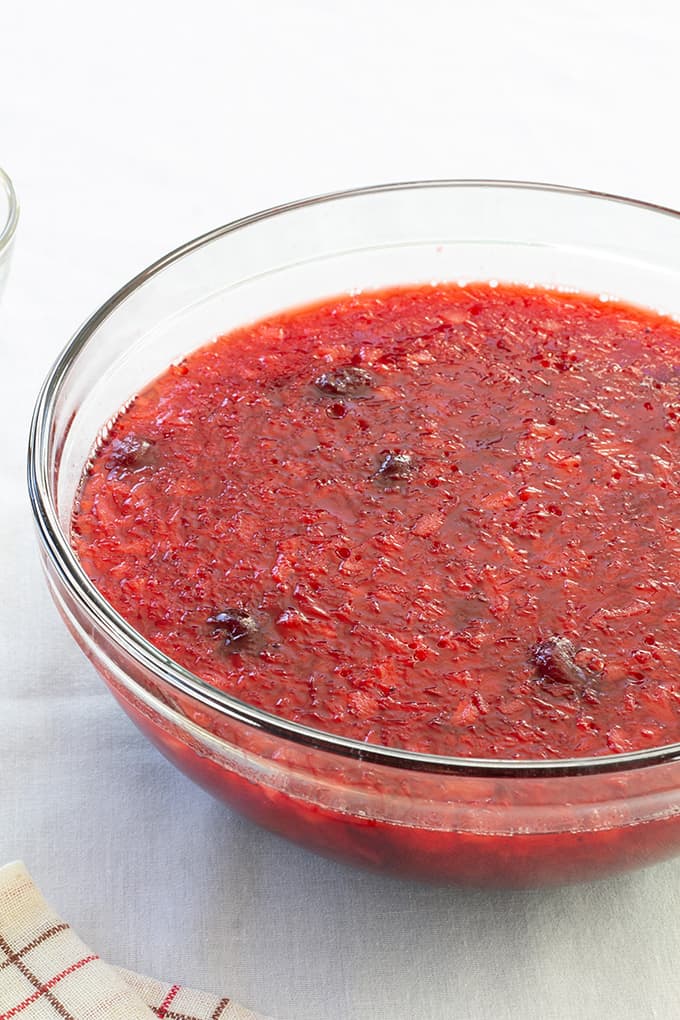 Why We Love This Raspberry Cranberry Jello Salad Recipe:
It reminds us of holiday dinners with family.
This recipe can easily be doubled or tripled depending on the number of people that need to be fed.
It is a great make ahead side dish. We love dishes that we can make a day or two ahead of time. This helps to make our holiday meals less stressful on the big day.
More Recipes Perfect For Thanksgiving or Christmas Dinner:
Follow us on social media!!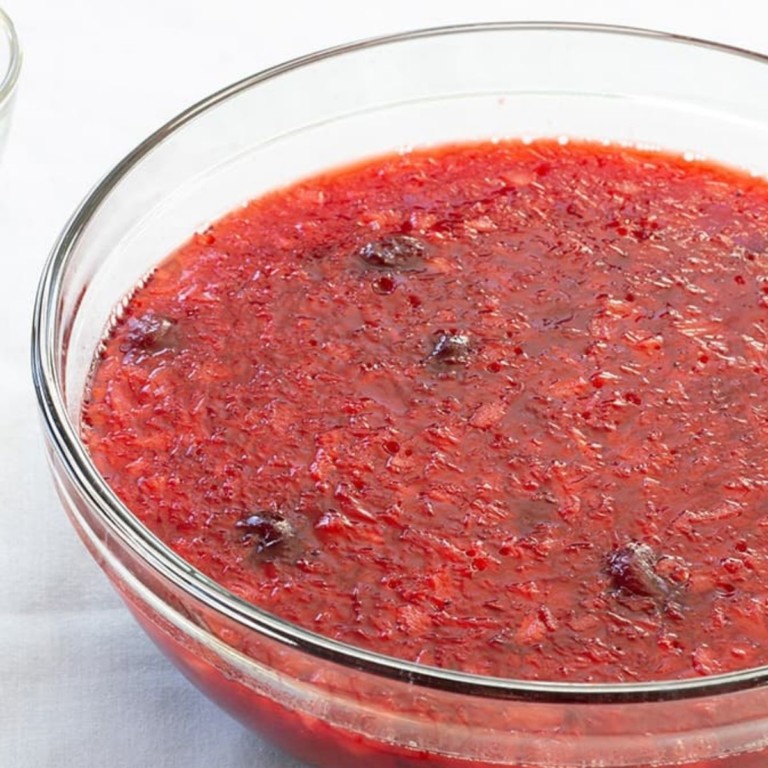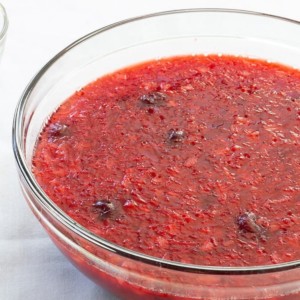 Cranberry Pineapple Jello Salad
Cranberry Pineapple Jello Salad features whole berry cranberry sauce, crushed pineapple, and raspberry jello. A tasty way to perk up canned cranberry sauce.
Ingredients
1

can

crushed pineapple

20 ounces

1

box

raspberry jello

6 ounces

1

can

whole berry cranberry sauce

14 ounces
I earn a small commission from Instacart for qualifying purchases.
Instructions
Drain pineapple, reserving the juice. Add enough cold water to pineapple juice to equal 3 cups. Pour into medium saucepan, bring to a boil.

Pour jello mix into a medium or large bowl. Pour boiling water over jello mix; stir 2 minutes or until jello mix is completely dissolved. Add cranberry sauce and stir until completely melted, about 5-7 minutes.

Refrigerate for about an hour, mix in crushed pineapple and return to the refrigerator for 3 - 4 hours or until jello is set.
Notes
See in post notes above for valuable information that may help you make this recipe successfully.
Nutrition Facts
Calories:
115
kcal
|
Carbohydrates:
29
g
|
Protein:
1
g
|
Fat:
0.1
g
|
Saturated Fat:
0.01
g
|
Polyunsaturated Fat:
0.03
g
|
Monounsaturated Fat:
0.01
g
|
Sodium:
35
mg
|
Potassium:
70
mg
|
Fiber:
1
g
|
Sugar:
25
g
|
Vitamin A:
39
IU
|
Vitamin C:
5
mg
|
Calcium:
9
mg
|
Iron:
0.3
mg
Pin this image for later!!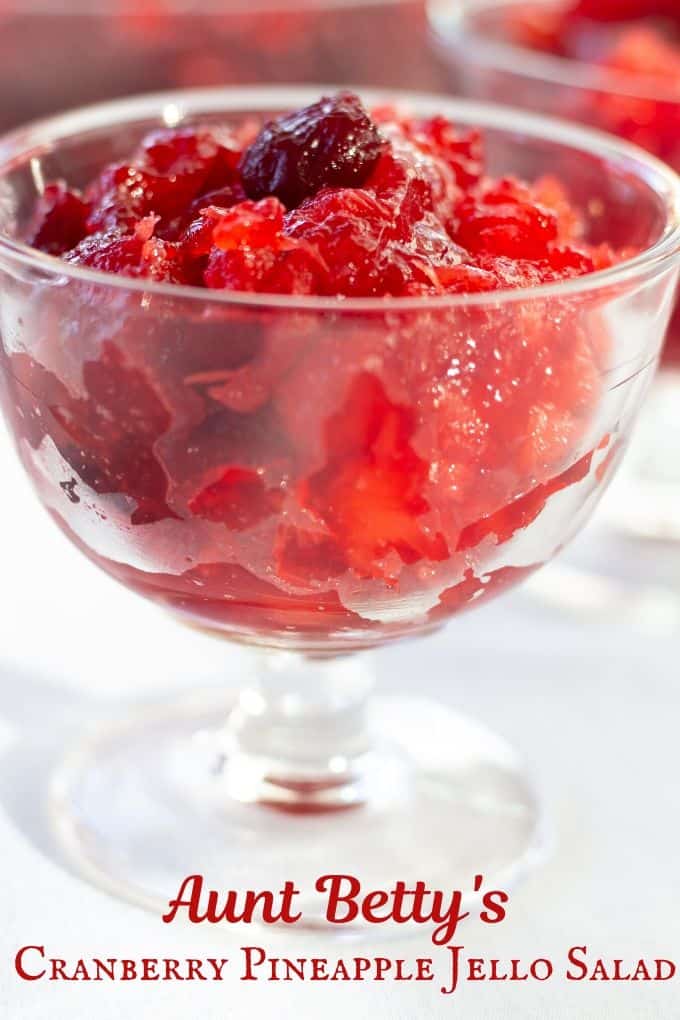 Some other Thanksgiving sides you might like: