Homemade Stove Top Stuffing is easier to make than you think!
Homemade Stove Top Stuffing is a simple recipe that will bring a level of freshness to your holiday table.
We use fresh bread, mushrooms, onions, and celery in this recipe.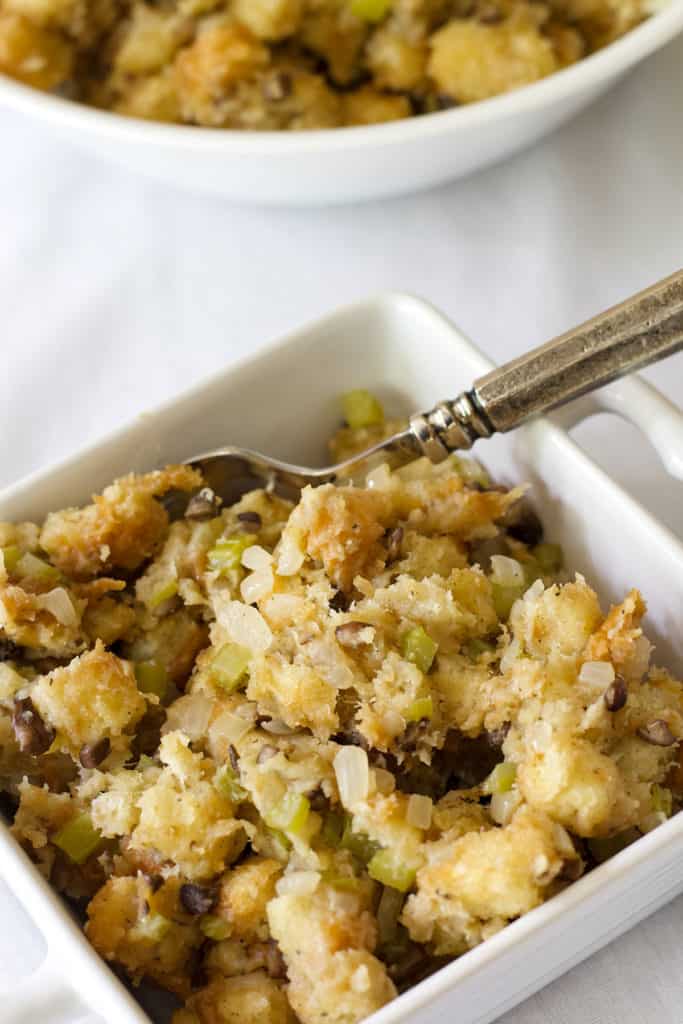 I feel like we don't eat stuffing enough. We really like it but is doesn't seem to come up when I am planning our weekly menu.
Perhaps we like it so much because it is a dish we serve for our big holiday meals.
So I have a confession to make – we usually make the store bought stove top stuffing for our holiday meals.
I mean, it tastes pretty good! But this year I wanted to make a homemade version.
My goal was to create a recipe that was close to the kind we get in the box.
I wanted to make my recipe before the holiday. You know, you have to try it before you serve it to other people, right?!
I knew it must have onion, celery and poultry seasoning, and some type of broth.
I made this with chicken broth, but you can buy turkey broth around the holidays so I will make it with that when I make it for our holiday dinner.
So it will probably be just three of us for Thanksgiving dinner this year. Normally we travel out of town or have out of town guests.
Those poor folks will probably have to wait until next year to try my new stuffing recipe.
This year we are going to have Thanksgiving dinner together via video call. Not ideal but necessary.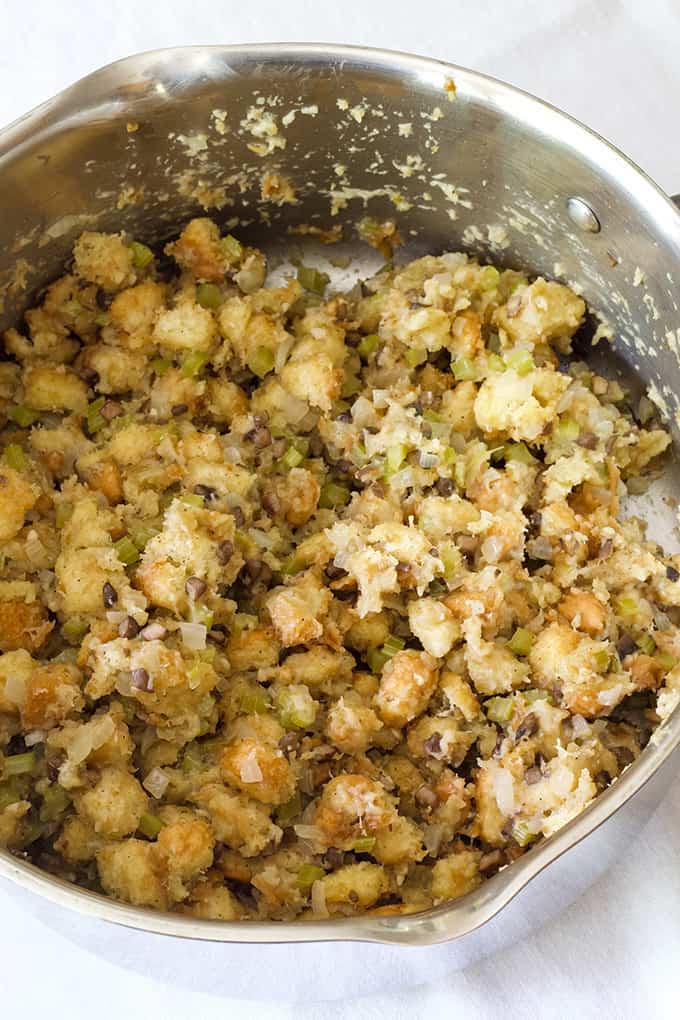 I have seen Homemade Stove Top Stuffing recipes such as this made in a large skillet but I prefer to make it in a Dutch oven or large pot.
Some other great side dishes for your holiday meal:
Homemade Stove Top Stuffing
Homemade Stove Top Stuffing features dried bread, onion, celery, mushrooms, broth and seasonings. Fast, so tasty, and easier than you think!
Ingredients
10

cups

bread

cut into 1/2" cubes

1/2

cup

butter

1

cup

white onion

finely diced

1

cup

mushrooms

finely diced

1

cup

celery

finely diced

1 - 2

teaspoons

poultry seasoning

1/4

teaspoon

salt

1/4

teaspoon

pepper

1 1/2

cups

chicken or turkey broth
Instructions
Arrange breadcrumbs onto one large or two small rimmed baking sheets in a single layer. Bake 10 - 15 minutes, stirring once or twice, until golden and dry

Melt butter in a Dutch oven or large pot over medium heat. Cook onion, mushrooms, and celery until softened, about 7 minutes. Add garlic and continue to cook for 3 more minutes. Stir in poultry seasoning, salt, pepper, and broth. Cook until broth is hot but not boiling, stirring to combine. Add bread cubes and toss gently to combine, taking care not to crush the bread cubes. Place a lid on the pot and remove from the heat, let sit for 10 minutes.
Notes
I use regular istore bought white bread. 
Follow us on social media!!
Pin this image for later!!