Parmesan Roasted Green Beans are simple and delicious!
This recipe for Parmesan Roasted Green Beans is a great way to "dress up" plain ol' green beans. I like them cooked until they almost look burnt. They become so tender.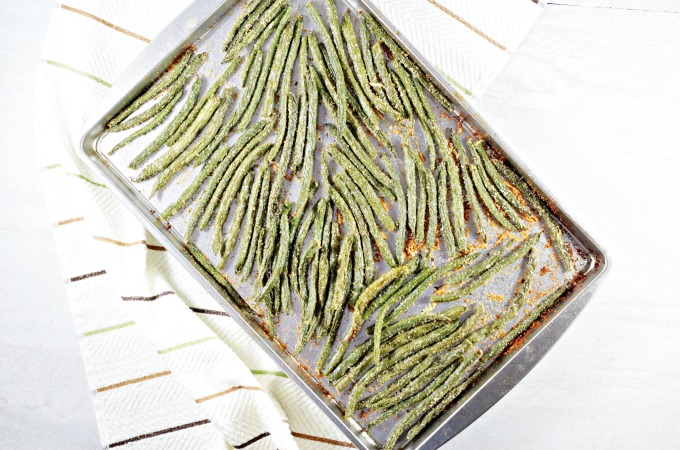 This kind of green bean looks so fancy, as opposed to the canned variety. Not that I don't eat the canned variety. because we do eat them, occasionally.
My daughter has a recipe using canned green beans that she makes for her husband and his family to go with our Thanksgiving dinner. One of these days I will share that recipe as well.
Another great way to make these is to put them on a sheet pan, drizzle with olive oil, sprinkle with salt and pepper, toss, and roast.
So simple and delicious!
I mix the ingredients together in a small bowl (except the olive oil) and then sprinkle it on the beans and then toss to coat right there on the sheet pan.
You could also put everything in a bowl and toss and then transfer to a sheet pan. You would not have the extra stuff on the sheet pan. I would rather not dirty another dish.
These green beans go great with Mini Meat Loaf and will cook at the same temperature. You would just wait until the meat loaves are in the oven for about 5 minutes. Then put the beans in.
I really like making dishes that can be cooked in about the same amount of time.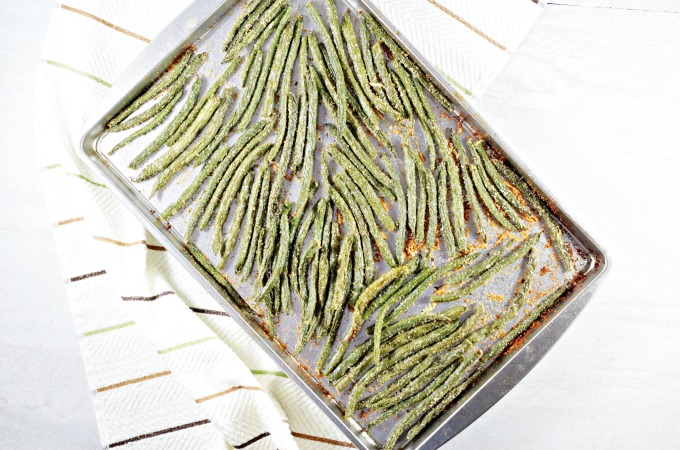 This Herb Roasted Pork Tenderloin would also go great with these beans. You just have to put the green beans in the 400° oven about 5-10 minutes before you put the tenderloin in.
The pork has to rest, so if you put the beans in early and leave them in while the roast rests, everything would get done in about the same time.
Parmesan Roasted Green Beans
Easy Parmesan Roasted Green Beans are coated with a mixture of olive oil, bread crumbs, cheese, Italian seasoning, salt, and pepper. Simple and delicious!
Ingredients
1

pound

green beans,

washed and ends trimmed

2

tablespoon

bread crumbs

2

tablespoon

Parmesan cheese

1/2

teaspoon

Italian seasoning

1/4

teaspoon

salt

1/4

teaspoon

pepper

2

teaspoon

olive oil

Cooking Spray
Instructions
Preheat oven to 425°. Spray sheet pan with cooking spray.

In a small bowl combine bread crumbs, Parmesan cheese, Italian seasoning, salt, and pepper.

Spread green beans on sheet pan, drizzle with olive oil, sprinkle with bread crumb mixture; toss to coat.

Roast for 18-23 minutes or until green beans are brown and tender.
If you make these with one of the suggested recipes above, all you have to do is add some mashed potatoes or boil-in-bag rice and you could have a dinner like this on the table in around 45 minutes, start to finish.
Both of these options are healthy too!
Follow us on social media!!
Pin this image for later!!