I first ate Sour Cream Chicken Enchiladas at Chili's. I loved them and vowed that I would make them at home. So I searched google for a Chili's knock-off recipe. Several recipes came up and I chose the one that I thought would be the easiest and the most like Chili's. There were many, many to choose from.
I made a couple of changes to the recipe, like substituting different cheeses and adding corn and black beans. I had the original recipe that I found (on a blog I am sure) saved on my other computer, but no worries because I had it memorized. That computer has since gone to computer heaven and when I started writing this post I set out to find where I got the recipe, so that I could give them credit in this post. Well that turned out to be impossible. There are so many blogs out there that have the exact recipe and I do not remember where I got it. Sooo, as not to give credit to the wrong blog I chose not to give credit to anyone.
As you can tell from the picture of ingredients, I shop at Walmart and use a lot of Great Value brand products. I do not "settle". I have tried the name brands and I have tried generic brands and if there is a cheaper alternative, I'm in. I mean, why not? It really is a matter of personal taste that makes us choose one brand over the other, so why not buy the cheapest if it is just as good? I really do "Save money. Live better", and I am fine with that. And I am not partial to Walmart,  I also shop at Aldi.
These would be great served with Spanish Rice as a side dish.
Here are the ingredients I used.
The filling ingredients.
The sour cream chicken enchiladas, ready for the sauce.
These are the sour cream chicken enchiladas, topped with the sauce.
They are topped with sauce and cheese and ready to go into the oven.
Sour Cream Chicken Enchiladas
Print recipe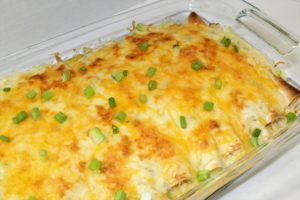 | | |
| --- | --- |
| Serves | 5 |
| Prep time | 20 minutes |
| Cook time | 25 minutes |
| Total time | 45 minutes |
This is a great chicken enchilada recipe that is creamy and delicious. The green chilies and sour cream give it great flavor.
Ingredients
2 cups cooked, shredded chicken
1/2 cup corn
1/2 cup black beans
1 cup grated pepper jack cheese
10 flour tortillas (8 inch)
Cooking spray
3 tablespoons butter or margarine
3 tablespoons flour
1 can chicken broth (14.5 ounces)
1 can green chilies (4 ounces)
1 cup sour cream
2 cups grated Mexican cheese blend
Green onions for garnish
Directions
| | | |
| --- | --- | --- |
| 1. | | Preheat oven to 350°. |
| 2. | | In a medium bowl mix the chicken, corn, black beans, and pepper jack cheese. Divide between flour tortillas, roll up and place into a 9" X 13" baking dish sprayed with cooking spray. |
| 3. | | Melt butter in a 10" skillet over medium heat, whisk in flour and cook for 1 minute. Add chicken broth stirring constantly with a whisk, cook until thickened, about 4-5 minutes. Remove from the heat and let stand for about 3 minutes. Stir in green chilies and sour cream. |
| 4. | | Pour sauce over enchiladas and top with the Mexican cheese blend. Bake in oven for 20-23 minutes. Broil until cheese is browned. Garnish with green onions, if desired. |