Chicken Pot Pie features chunks of roasted chicken, corn, green beans, carrots, peas, potatoes, and a creamy sauce in between layers of crust. Classic comfort food!
This Chicken Pot Pie takes me back to when I was a little girl. I remember eating the chicken, turkey and beef varieties.
Chicken was always my favorite. I have fed the little frozen ones to my kids from time to time.
We would make the slits in the top crust in the shape of a "C" or "T" or "B", so we would know which was which.
I modified a recipe from Pillsbury and this is my version of Chicken Pot Pie.
The pot pies I remember have potatoes in them, and since I love potatoes, I added some.
I also cut the salt a little because we try to eat less sodium and the chicken broth has plenty (even though I buy the low-sodium type).
That is really all I changed.
I wasn't sure how this would turn out, being so large. Well, it turned out perfect.
But, I could not get a slice out of the whole pie and onto the plate in one piece. It just ended up as a heap of yummy goodness on the plate.
Not photogenic at all! But that's okay, I am more concerned with flavor.
We used to dump the little ones onto the plate upside down and chop it up so it would cool, and this was similar to that.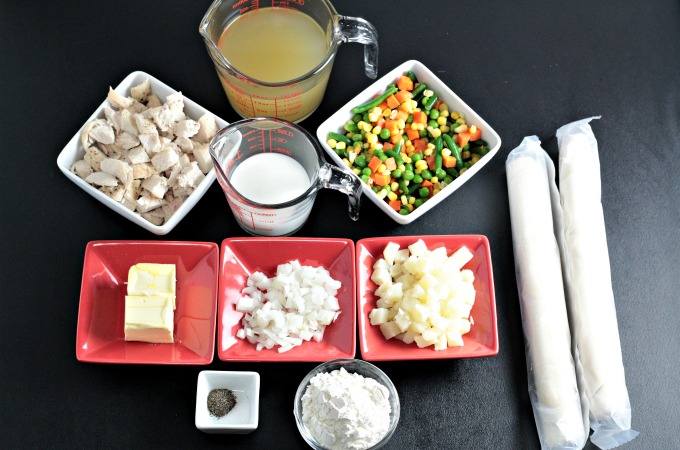 With nothing to flavor the sauce other than butter, broth, salt, and pepper, I was a little worried it would taste bland.
I ran across a few recipes that used fresh herbs, but I just went with what was in the recipe I used as a base.
So glad I did because the flavor was spot on.
Chicken Pot Pie would be great served with this Baby Greens Salad with Beets & Goat Cheese.
Looking for a yummy dessert to serve after this? This Peachy Keen Cake with Cool Whip Frosting would make a great finish to this meal.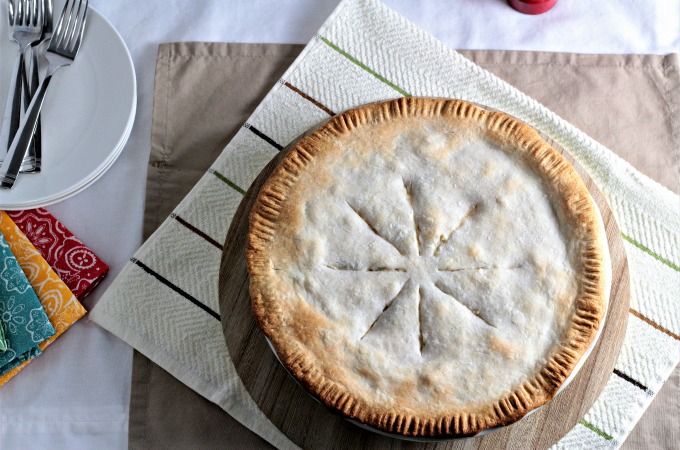 Chicken Pot Pie
Chicken Pot Pie features store bought crust, cooked chicken, peas, corn, carrots, green beans, and potatoes in a creamy sauce.
Ingredients
1

box refrigerated pie crust

1/3

cup

butter or margarine

1/3

cup

chopped onion

1/3

cup

flour

1/4

teaspoon

salt

1/4

teaspoon

pepper

1/2

cup

milk

1 3/4

cups

chicken broth

2

cups

frozen mixed vegetables

thawed

1

potato

boiled and cubed (about 3/4 cup)

1

pound

boneless

skinless chicken breasts, cooked and cut into cubes
Instructions
Preheat oven to 425°. Place bottom crust in a 9" pie pan.

In a medium saucepan melt butter over medium heat, add onion and cook until tender, 2-3 minutes. Whisk in flour, salt and pepper and cook for 1 minute, whisk in milk and broth and heat until boiling, stirring constantly, boil for 1 minute.

Take off of heat and add vegetables and chicken. spoon into crust.

Top with crust, seal edges and press with fork all around. Cut several slits in top of crust.

Cover edges with foil. Bake for 30-40 minutes, until browned. Remove foil for the last 15 minutes to brown edges.
Notes
I used 2 boneless, skinless chicken breasts slathered in olive oil, seasoned with salt and pepper, and roasted in a 350° oven for 35 minutes.
Recipe minimally adapted from Pillsbury.
Follow us on social media!!
Pin this image for later!!