Strawberry Cheesecake Cupcakes feature a white cupcake topped with cheesecake filling and strawberry pie filling to make a simple and delicious treat!
I added these Strawberry Cheesecake Cupcakes to the blog just for Lee!
He was on the blog the other day, looking at all the recipes, when he noticed that there were only two cupcake recipes.
He told me that he thought we needed more cupcake recipes on the blog.
I'm thinking he just wanted some cupcakes. (I can't really blame him.)
And because I post regularly, he knew it wouldn't be too long before I would be making them.
I don't mind though, because cake is one of my favorite foods.
Okay, so I have a lot of favorite foods, and not all of them are dessert.
Extra-ordinary cupcakes, that are easy, are right up my alley.
So I thought, why not top the cupcakes with cheesecake and pie filling?
I guess these are what you would call semi-homemade.
Totally fine by me (Lee, too)!
Cupcakes are awesome for a couple of reasons:
They cool fast, which means you can frost them and eat them sooner.
You can just grab one and eat it, no cutting, fork or plate required.
I see many more recipes like this in our future, and we couldn't be happier.
I mean, the possibilities for toppings and fillings are nearly endless.
Canned pie filling is an awesome product because there are so many ways to use it, other than pie.
Not that it isn't fabulous in pie too.
I use it on my Peach Pie Thumbprint Cookies (one of Lees favorite recipes on this blog), and the topping on my Black Forest Poke Cake.
Oh, and I can't forget these Blackberry Crescent Rolls.
The one thing all of these recipes have in common is that they are super easy, and sooooo yummy!
Fall is quickly approaching and I see lots of recipes using apple and pumpkin pie filling.
I am super excited!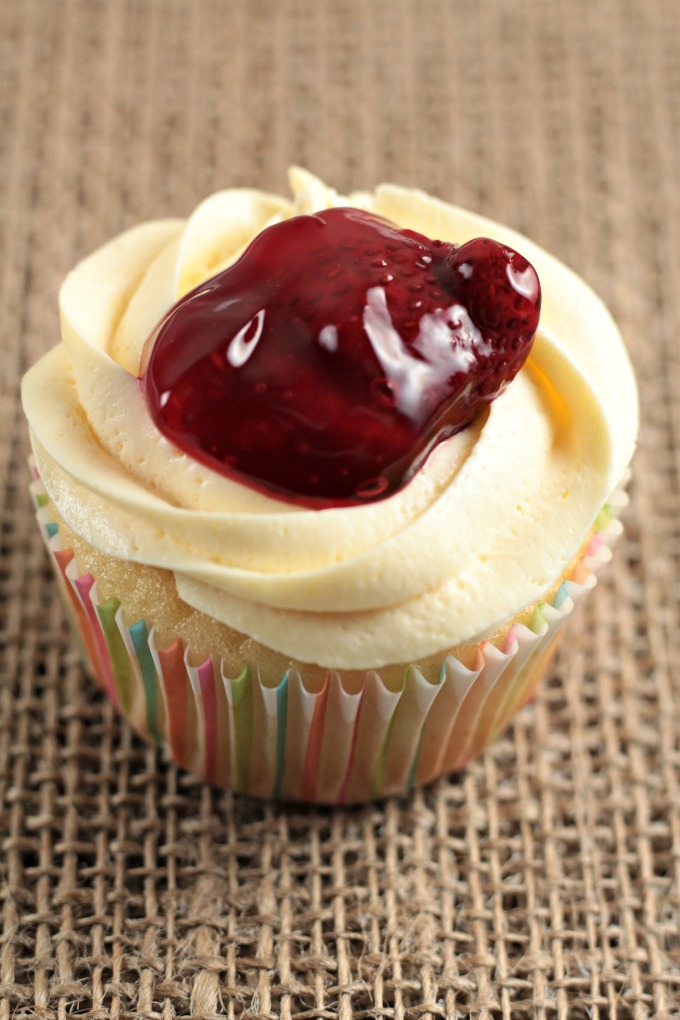 White cupcakes topped with cheesecake and strawberry pie filling are so easy and delicious. Get the recipe!
Click To Tweet
Strawberry Cheesecake Cupcakes
Strawberry Cheesecake Cupcakes transform a boxed white cake mix into a delicious treat with premade cheesecake filling and strawberry pie filling. So easy!
Ingredients
1

box white cake mix

16.25 ounces

3

eggs

1/3

cup

vegetable or canola oil

1 1/4

cup

water

1/2

tub prepared cheesecake filling

24.3 ounces

2/3

can prepared strawberrry pie filling

21 ounces
I earn a small commission from Instacart for qualifying purchases.
Instructions
Preheat oven to 350°. Line 24 muffin cups with paper liners, or spray with cooking spray.

In a large bowl mix cake mix, eggs, oil, and water until well combined.

Divide batter between cups. Bake accoriding to the package directions, (usually 14-19 minutes).

Let cool in muffin tin for 10 minutes, remove and let cool completely.

Fill a pastry bag with cheesecake filling. Pipe filling around outer edge of cupcake, leaving the center unfrosted. Spoon a small amount of pie filling in the center of the cheesecake filling.
Notes
These MUST be stored, covered , in the refrigerator. Mix and bake cupcakes according to the package directions if it varies from the ingredients and instructions I have given. Prep time includes frosting. Total time does not include cooling time. If you don't have a pastry bag then use a large zip top bag with the corner cut off. I used a Wilton 2D tip.
Follow us on social media!!
Pin this image for later!!