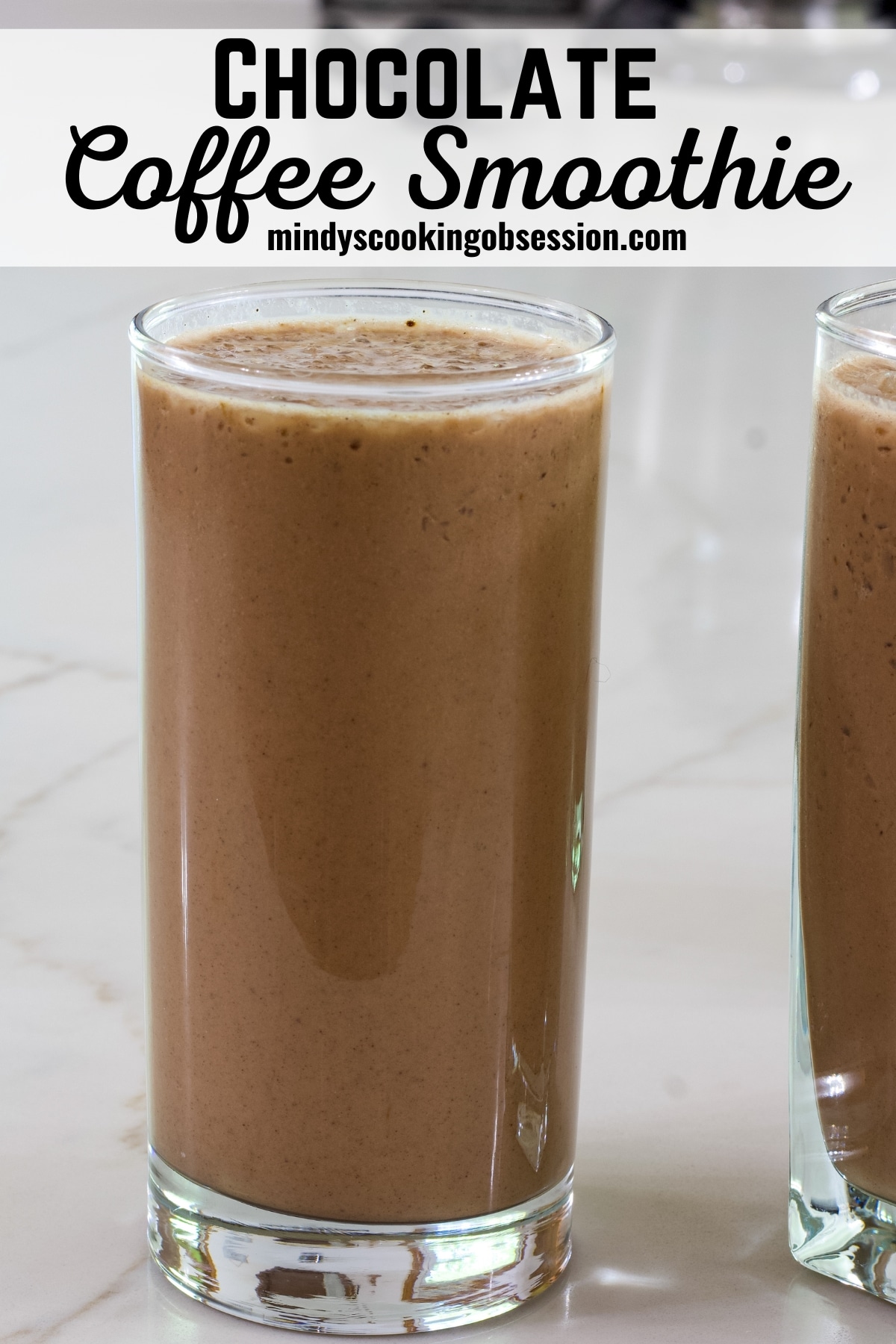 Our Easy & Healthy Chocolate Coffee Smoothie is a great option for busy mornings! It is the perfect way to give you that kick of caffeine you desperately need to get your day going.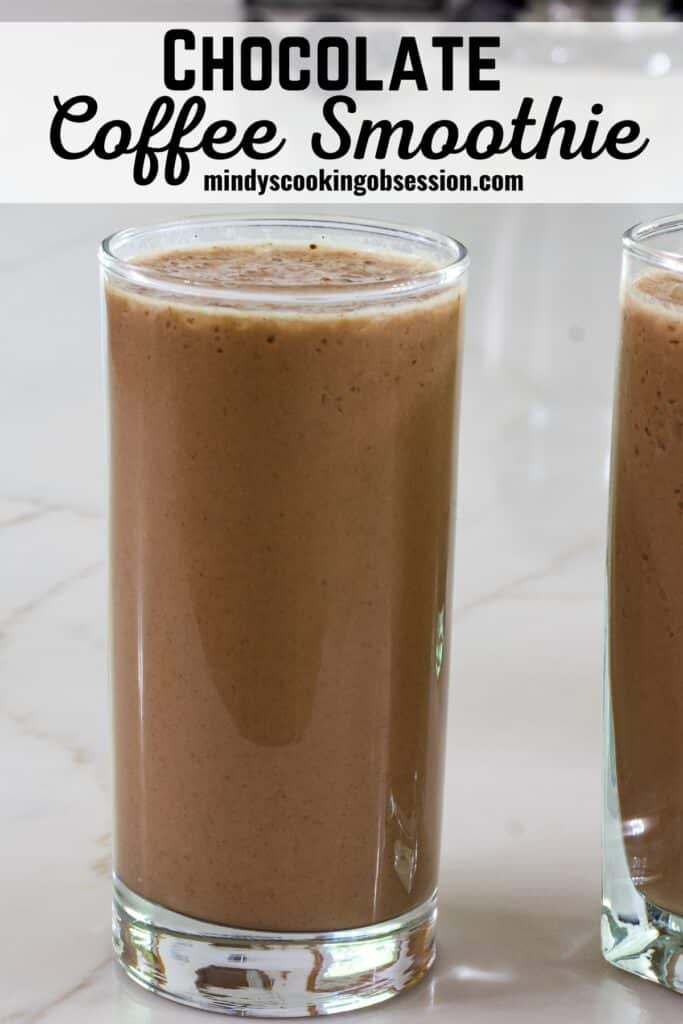 We use the blender for this recipe to basically chop up the ice. If you have crushed ice or can crush the ice some other way then you can make this coffee protein smoothie without a blender. This makes me think of the movie The Emperor's New Groove when Yzma says she will "smash it with a hammer" 😂. You could put the ice in a plastic freezer bag, wrap it in a kitchen towel and hit it with a meat mallet or, yes, a hammer. Just mix all the ingredients together and then pour it over crushed ice. See below for more information about blenders.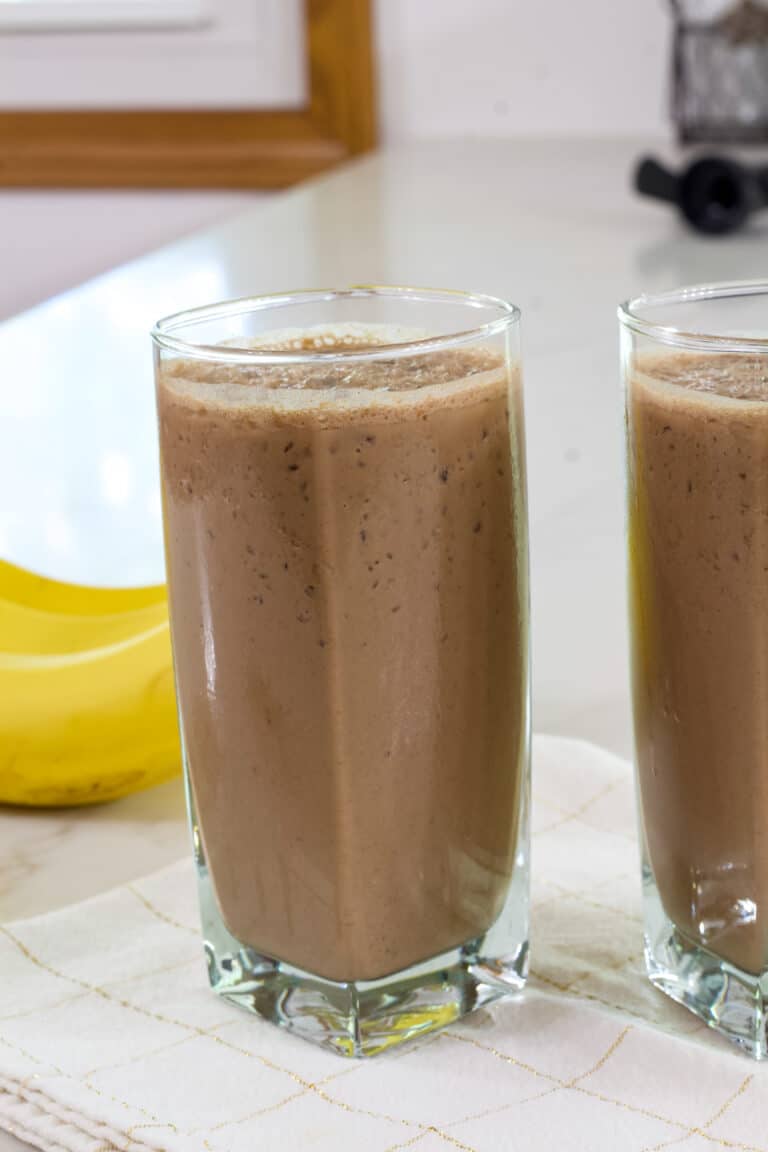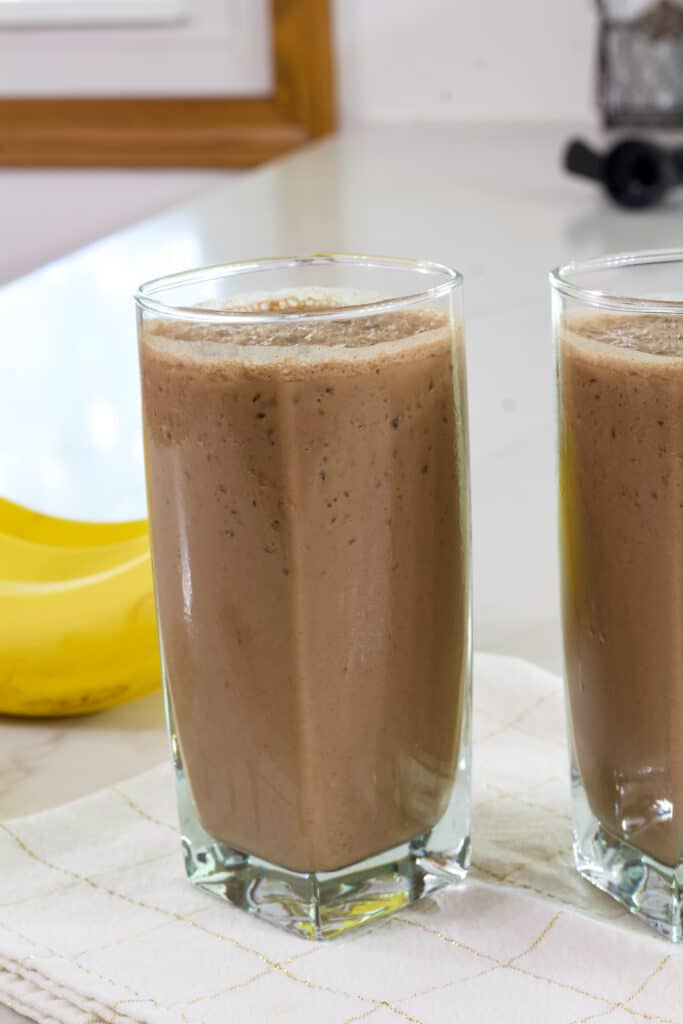 What you will love about this chocolate iced coffee smoothie recipe
It is a delicious way to get your morning cup of coffee.
It is full of healthy ingredients that taste good too.
This is quick and easy recipe that will save you time and money. Something we always need more of, am I right?!
Ingredients
Ingredient Notes
Just a few simple ingredients are all you need to make this healthy coffee smoothie.
Oat Milk – we use unsweetened. Use your milk of choice, dairy milk or any plant-based milk will work just fine.
Mashed Banana – this adds natural sweetness and fiber plus a slew of other things that are good for you. Everyday Health has a great article explaining the nutritional benefits of bananas so check that out. After you make this recipe, of course 😉.
Plain Yogurt – we use regular yogurt. Greek yogurt will work, your smoothie will just be a little thicker than ours and that is perfectly fine.
Vanilla Protein Powder – we use a plant based protein powder because we like the flavor and it is the least expensive brand at Walmart. Use your favorite brand and type or leave it out altogether.
Unsweetened Cocoa Powder – this is found on the aisle with the baking supplies.
Instant Coffee – I keep a large jar of instant coffee on hand for cooking, baking, and coffee drinks. You can buy a box that has around 6 single servings in it for a little over a dollar to make this recipe more affordable.
Honey – we use this so there is no added sugar.
Ice Cubes – we like to use ice in place of the frozen banana that a lot of breakfast coffee smoothie recipes call for because I'm always wanting a smoothie when I haven't planned ahead.
How to Make This Delicious Smoothie Recipe
Add all of the ingredients into a blender and mix until smooth.
Pour into a glass and enjoy!
Do I need a high speed blender to make a smoothie?
While a powerful blender will make them faster and chop the ice smaller you can make smoothies with virtually any blender. That is the point of most blenders, to blend stuff 😉.
I received my blender as a birthday gift from my daughter's boyfriend at the time (now her husband of 13 years) when they first started dating, so that was well over 13 years ago and it is still going strong.
It chops up ice and makes shakes and smoothies as good today as it did the day I got it. It doesn't chop ice to the consistency of an icee but it does chop it up good enough for me. I googled the model number and found out that it is 500 watts, so it is your basic blender for the home cook.
Christen over at Gadget Review breaks it down for you regarding high speed and traditional blenders. I had no idea that a blender could heat up soup!
Variations
Leave out the cocoa powder and honey and use chocolate milk instead.
Use maple syrup instead of honey.
Add a tablespoon of your favorite nut butter for added nutrition. Peanut butter, almond butter, and cashew butter would be a great way to add healthy fats and extra flavor.
Chia seeds would be a great addition to add extra nutrition.
More Smoothie Recipes
Follow us on social media!
Bookmark this page so you can find it easily when you are ready to make this recipe!
Easy & Healthy Chocolate Coffee Smoothie Recipe ↓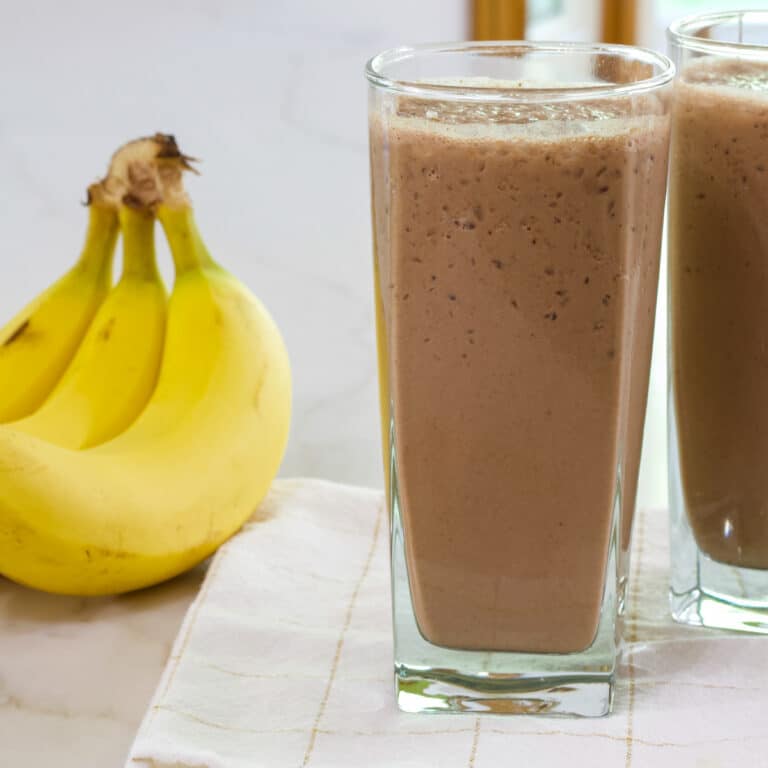 Easy & Healthy Chocolate Coffee Smoothie
Easy & Healthy Chocolate Coffee Smoothie is made with healthy ingredients and the kick of caffeine makes it perfect for busy mornings.
Ingredients
1/2

cup

oat milk

1/2

cup

mashed banana

1/2

cup

plain yogurt

1

scoop

vanilla protein powder

1

tablespoon

cocoa powder

1

tablespoon

instant coffee

1-2

tablespoons

honey

1

cup

ice
I earn a small commission from Instacart for qualifying purchases.
Instructions
Add all of the ingredients into a blender and mix until smooth.

Pour into a glass and enjoy!
Notes
This can be made without a blender if you have crushed ice or another way to crush the ice. Just mix all the ingredients together and pour over crushed ice.
Nutritional information is approximate.
See tips, notes, and suggestions in the post above.
Bookmark this page to find it quickly when you are ready to make this recipe!
Nutrition Facts
Calories:
407
kcal
|
Carbohydrates:
75
g
|
Protein:
20
g
|
Fat:
7
g
|
Saturated Fat:
3
g
|
Polyunsaturated Fat:
0.2
g
|
Monounsaturated Fat:
1
g
|
Cholesterol:
16
mg
|
Sodium:
265
mg
|
Potassium:
956
mg
|
Fiber:
6
g
|
Sugar:
46
g
|
Vitamin A:
439
IU
|
Vitamin C:
10
mg
|
Calcium:
383
mg
|
Iron:
2
mg