Easy Homemade Vanilla Coffee is a great way to take your coffee to the next level.
We love coffee at our house and enjoy flavors like this Easy Homemade Vanilla Coffee or my Cafe Mocha.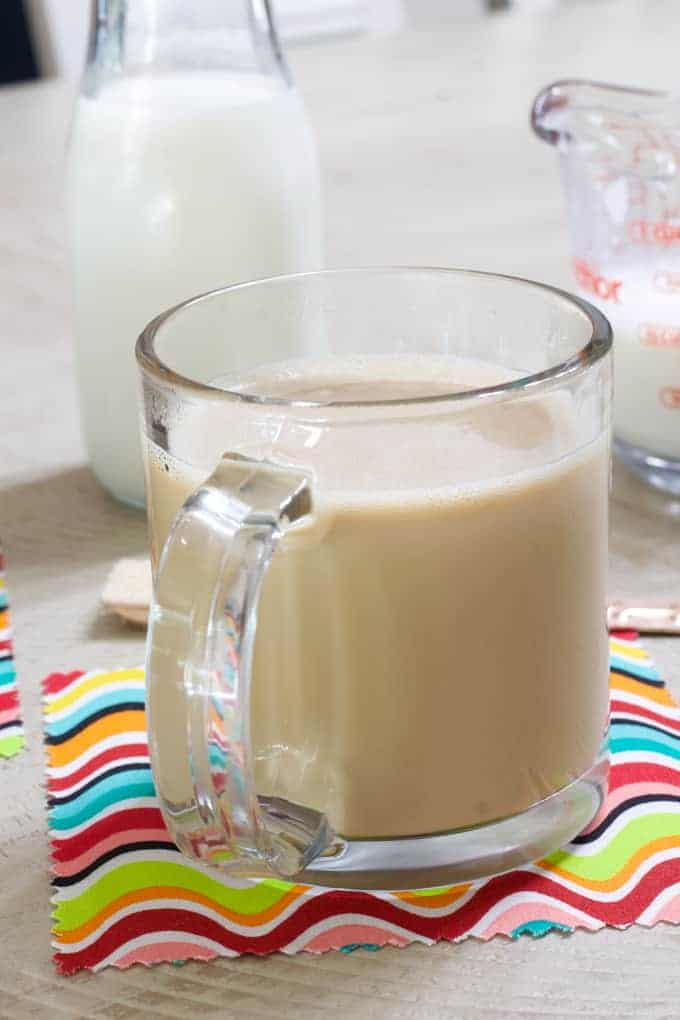 This isn't a Cappuccino or a Latte. Those both have milk froth and this Easy Homemade Vanilla Coffee does not, just flavored milk that is heated.
What is the difference between a Cappuccino and a Latte?
According to Coffee Bean – "A traditional cappuccino has an even distribution of espresso, steamed milk, and foamed milk. A latte has way more steamed milk and a light layer of foam. A cappuccino is distinctly layered, while in a latte the espresso and steamed milk are blended together."
So this recipe is closer to a Latte.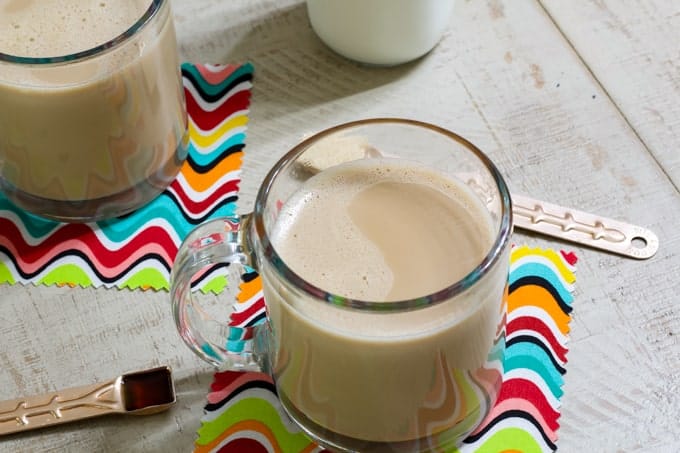 This recipe would be easy enough to make with milk foam because I have a blender and an immersion blender.
But, I wanted to make this recipe for people that don't have those things.
I also didn't want to have to dirty a small appliance to make this.
You get it, right?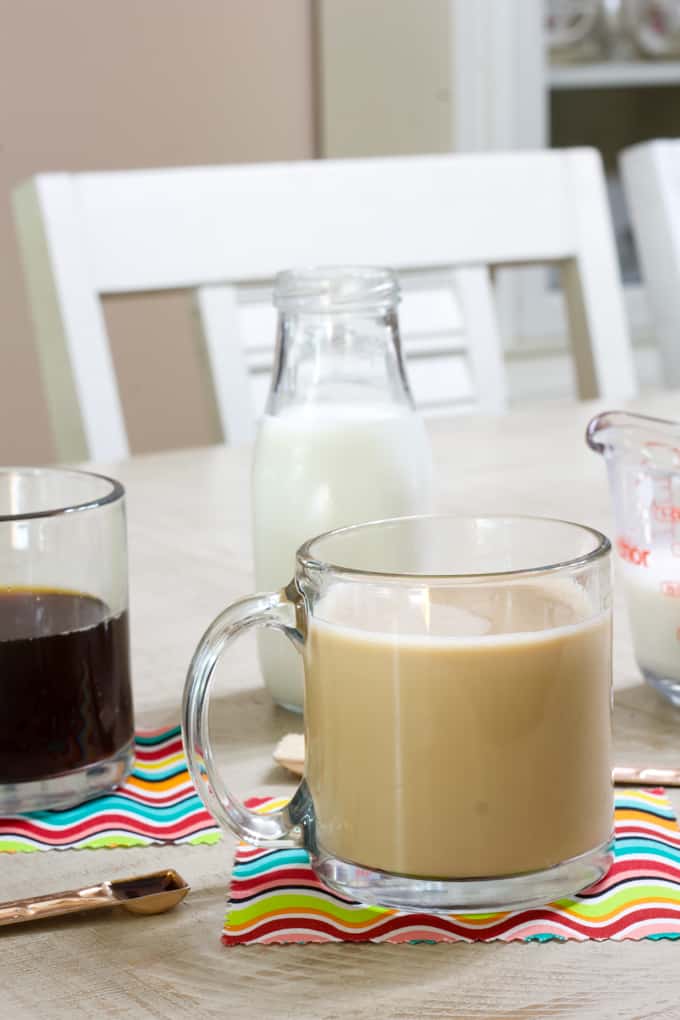 Easy breakfast recipes that would go great with this Homemade Vanilla Coffee:
How strong should you brew your coffee?
This is really personal preference. We make it about twice as strong as we normally would.
We only put a little milk in our everyday coffee so we wanted to counter balance the sweetness of this with stronger coffee.
If you normally sweeten your coffee then you might want to make it the same as you always do.
We used to take sugar in our coffee but cut it out when we started trying to eat a little better.
Some easy treats to pair with your Easy Homemade Vanilla Coffee:
Blackberry Crescent Roll Turnovers
Chocolate Peanut Butter Pretzel Bites
M&M's Hershey Hugs Pretzel Bites
Perfect Chocolate Chip Cookies
Follow us on social media!!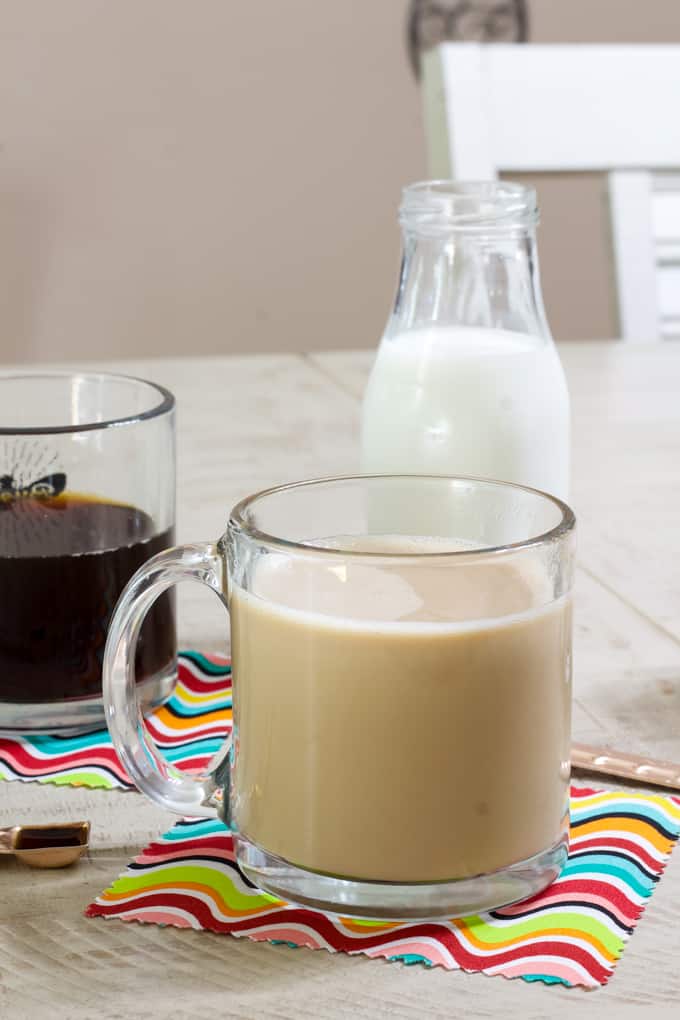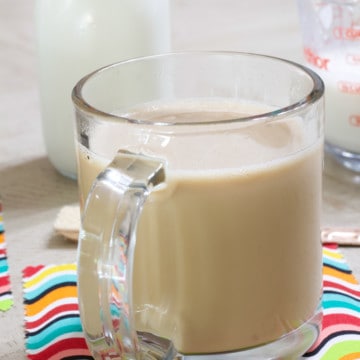 Easy Homemade Vanilla Coffee
Easy Homemade Vanilla Coffee takes ordinary coffee to the next level and needs just four ingredients; coffee, milk, vanilla and brown sugar.
Ingredients
1

cup

strong coffee

1/2

cup

whole milk

or your favorite type

1

teaspoon

brown sugar

or to taste

1/4

teaspoon

vanilla
Instructions
Heat milk, brown sugar and vanilla in a small saucepan over medium heat until it just begins to bubble.

Add the coffee and milk mixture to a cup stirring to combine.
Notes
Milk will boil over very easily so watch it closely. Prep time does not include brewing time.
Recipe inspired by Roasty Coffee.